In this Classy Plaques blog post, we want to give you the boot (and of course we are referring to the boot-shaped country of Italy).
To know Italy is to love Italy - the perfect blend of classic romance, artistic beauty, elegant sophistication, and Old World charm. Our Tuscan Style Address Plaque was designed to capture the essential memories of 'la bella vita in Italia' (living the good life in Italy) and today we want to take you on a quick virtual tour of the country that is known:
For its fine foods and culinary artistry (pizzas, pastas, cheeses, gelatos) and as the largest producer of fine wines in the world
As the birthplace of the renaissance and the cultural and artistic epicenter of the world (music, opera, sculpture, painting, drama, and literature)
For the beauty of its dramatic coastlines, majestic mountains, fertile valleys, and vineyard-covered countrysides
For its famous regions (Tuscany, Umbria, Sicily) and well-known cities (Rome, Venice, Florence, Milan, Pisa, Naples, Verona)
For its architectural masterpieces (Roman Colosseum, The Pantheon, The Forum, Saint Peter's Basilica, Tower of Pisa, Rialto Bridge) and spectacular fountains
Much like with God, family, or love, knowing facts about Italy is much different than experiencing it first-hand in a personal manner. Craig and Renee, the founders/owners of Classy Plaques spent three weeks in Italy and Greece on a dream vacation and in an effort to share their first-hand 'experience' of Italy with you, we've included excerpts from Renee's journal:
Italy Trip – Journal Entry Excerpts
Arrival
'… I can't believe I'm here in Italy. Out of the airport and into utter chaos! There are just as many motorcycles and scooters as there are cars in this city. If we make it to the hotel and get through this crazy, high speed, do-whatever-you-want-whenever-you-want, law-bending, rule-breaking, horn-honking chaotic experience they call driving, I think I will end up liking this city!'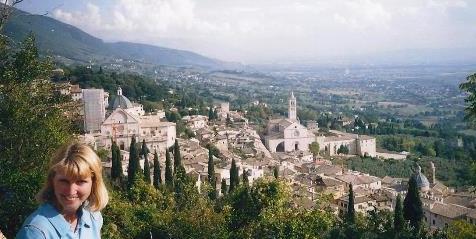 Rome
'… our walk through the city was like a scene from a romantic movie – ancient ruins and charming convents, street names engraved in marble on terra cotta buildings with dark green shutters, narrow cobblestone streets and balconies filled with flowers, tiny shops with iron gates, exquisite sculptures, ornate fountains, and the intoxicating aroma of fresh Italian bread …'

Vatican City
'…WOW. This is one of the most beautiful places in Rome. The Vatican is impressive with beautiful statues guarding the all-encompassing entryway to the main piazza of this city within a city (where no shorts or bare shoulders are allowed). The dour guards and solemn ambiance of the Vatican were a notable contrast to the friendly demeanor and joyful spirit of so many Italians.
Assisi
'… finally arrived in this 1,600 year-old 'city on a hill' after a beautiful drive through the Tuscan countryside. Steep hills and dozens of tiny shops tucked into the city walls, village streets lined with kiwi, lime, and apple trees, green shutters and hanging flowers. Medieval doors are at every turn, set in impressive archways. So cool! There are beautiful fountains in the main piazza with the sound of church bells ringing over the rolling hills.
Tuscany
'… breathtaking beauty of the Italian countryside as the road winds its way through olive orchards, lemon groves, and grape vineyards accented by lush tropical palm trees.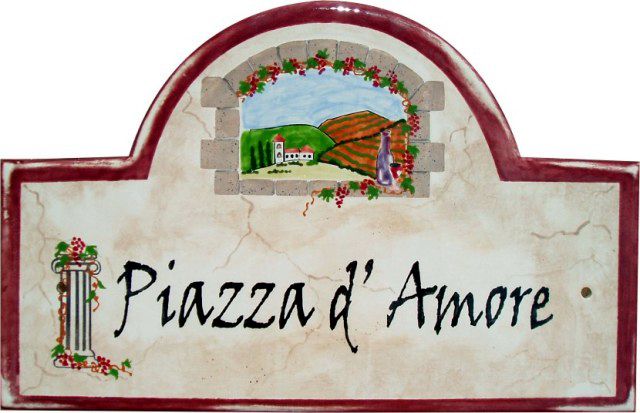 Amalfi Coast
'… hillside towns nestled between the majestic cliffs and dozens upon dozens of tiny houses and shops built into the ancient cliffs overlooking the sparkling blue Mediterranean.
While a ceramic address plaque from Classy Plaques is not the same as a trip to Italy, our Tuscan Style plaque may evoke many feelings and memories of the people and places of Italy, if you've been there. If not, one of our plaques may keep you focused on your dream of a future visit.
We trust you enjoyed this virtual 'tour' of Italy through Renee's eyes. She loves many of the Classy Plaques designs she creates, but these memories of her dream vacation to Italy make our Tuscan Style Address Plaque one of her favorites.
Ciao!
Alla prossima (see you next time)…
Cassie Jones
Classy Plaques Blogger