Resorts, Condos, Townhouses, Hotels & More
Let us create your Custom Signs and Plaques for Unit Numbers, House Numbers, Room Numbers, Wayfinding, Entrance, Statement & Message Plaques and More! We can provide plaques and signs for Resorts, Villas, Airbnb's, Bed & Breakfast, Condominiums, Residential Communities and Complexes, Apartments, Townhomes, Historic Homes & Districts, Subdivisions, and Hotels. 
Many shapes and sizes are available to meet your desired use of space. Please contact us today at 541-647-7226 or email us at orders@classyplaques.com to discuss your questions and your ideas. We're here to help!
The Estuary Townhouses at Delray Beach, Florida
Just Completed! – Beautiful Porcelain House Number Plaques for The Estuary Townhouses at Delray Beach, Florida. This is a unique gated townhome community, located walking distance to Delray's beautiful white sandy beaches and famed downtown Atlantic Avenue. The Estuary Nature Preserve, located between the north lake and the Intracoastal, is home to many species of wildlife and water fowl. We crafted over 100 porcelain house number plaques for each of these uniquely styled stucco homes with old world charm. This rectangle was a size approximately 9.5 x 12 inches but we offer many varied shapes and sizes. Just call us for your project!
Palm Island Plantation, Vero Beach Florida
This was a fun project. We created a tropical look for this beautiful community of villas and homes in Vero Beach, Florida. Located along the Atlantic Ocean, Palm Island Plantation offers a leisure side to its intimate community with an elegant oceanfront beach club. The architecture of the beach club captures the allure of the West Indies Islands. Nice work team! We have available ovals and rectangles in multiple sizes for whatever your need is.

Seabrook Cottages - Seabrook, Washington
 A wonderful community on the coast of Washington that we have had the delight in creating over 50 plaques for the individual home owners in this unique coastal town. Whatever your vision, it is our goal to make it come to life! Here is a sample of some of these custom made signs for our customers who live there.
Altar'd State Women's Boutiques, Tennessee
This special project was for a growing chain of over 80 women's fashion boutiques in the eastern United States. These unique clothing stores have the most beautiful dressing rooms we've ever seen! The project was for 'Hello' plaques for the individual dressing room doors for their attendant to be able to write the customer's name on the plaque with an erasable pen marker. We created these plaques for 8 stores and counting!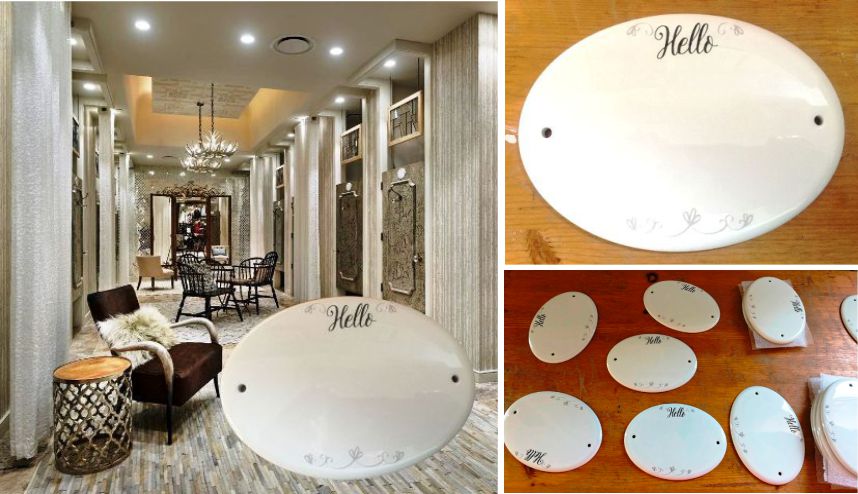 Crystal Cove Beach Cottages, Newport Beach, California
As an artist it thrills my heart to be part of this story of creating Cottage Plaques for this piece of California history. We created special molds for the round ceramic plaques for these cottages on the Newport, California Coastline. Built as a seaside colony between 1920 and 1940, Crystal Cove's Historic District endures as an enchanting retreat for visitors who appreciate the opportunity to experience California's natural and preserved architectural beauty.
Crystal Cove first attracted Hollywood filmmakers in the 1920s. Forty-six cottages dotted the landscape and, by 1988, when Bette Midler's Beaches was filmed at Cottage #13, Crystal Cove had been designated a state park and added to the National Register of Historic Places. We created over 35 Cottage Signs for this special project.
L'Auberge de Sedona, Arizona
Beautiful resort in Arizona asked us to create room number signs for their resort using their logo. This turned out very stylish. We can create apartment numbers, condo numbers, resort and hotel plaques with your own logo for a customized, classy look that will elevate any room!
A prestigious golfing community with breathtaking ocean views, this is a one of a kind golf course resort. It has the distinction of having a unique place in history. Built in 1921, the resort was the meeting place for the 1953 Summit meeting of world leaders British Prime Minister Winston Churchill and United States President Eisenhower. We have had the pleasure of creating several plaques for the Cottages there as well as custom created plaques for the putting green hole markers. 
Hudson Harbour Condos Sarasota, Florida
We created Spanish-Mexican Style plaques to bring real 'pop' and vibrant color to this coastal Florida condo community. This porcelain is size 9.5 x 16 inches and the numbers are large at 5 inches height (for 3 numbers) and easily seen from a distance. Colors can be changed so contact us with your project!