27 Ways to Rack, Quack, and Stack Your Plaque
Let's do something different!
We typically focus our Classy Plaques Blog posts on a particular design theme for one of our ceramic address plaques. With dozens of customized designs to choose from, we have a wide range of topics to blog about. But this post is different. It's all about you - our loyal and highly-valued Classy Plaques customers. The Testimonial Pages at Classy Plaques are filled with dozens of your photos and your stories. They inspire us and present more creative ways to use and display our plaques than we would have ever imagined.
Here's a list of the many places and ways you are using and displaying our address plaques and house number signs around the world. We hope you find it as creative and inspiring as we do:
How Classy Plaques Are Used
The following lists are based on testimonials received and posted on the Classy Plaques website and comments from satisfied customers, loyal followers, and devoted CP Blog readers.
CP's custom-designed ceramic plaques can be used as:
1. Address signs (123 Main Street)
2. House number signs (23056)
3. Surname plaques (Johnson)4. House/property name plates (Kismet, Bramble Rock)
5. Combinations (The Miller's Beach House) Other creative uses include:
6. Suite/Room markers (Mandarin Suite)
7. Cabin/Bungalow identifiers (Wildwood, The Palms)
8. Welcome signs (Welcome)
9. Upscale signage (Please Keep Gate Closed)
10. Memorial plaques (In Memory Of...)
11. Section markers (Fine Wines)
CP's custom-designed ceramic plaques can be found on:
12. Gateposts and Doorposts
13. Entryways and Archways
14. Porches and Patios
15. Fences and Gates
16. Houses and Guest Houses
17. Dog Houses and Stables
18. Driveways and Pathways
19. Yards and Lawns
20. Flower Beds and Gardens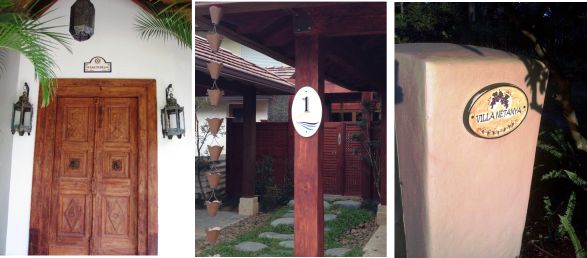 Classy Plaques are used by:
21. Estates (Villa Tuscany, Casa DeCandia)
22. Ranches (Rimrock)
23. Beach houses (Crystal Cove)
24. B&B's (Hansel & Gretel House)
25. Resorts/hotels (Cape Santa Maria)
26. Retail establishments (Speets Cafe)
27. Businesses (Glenwood Cattle Company)



Classy Plaques can be found in: *
International See Our Map! Click here: http://www.classyplaques.com/where-is-your-classy-...
Ireland, Bahamas, Australia, Italy, The United Kingdom, Israel, Costa Rica, Puerto Rico, Iraq, Philippines, Afghanistan
Canada, Jamaica,
USA
Anywhere and everywhere in America!
* This select list of CP locations is limited to testimonials that have been received and posted on the CP website.
Wrap Up
In closing, thanks again for your support over the years. We appreciate you so much - not only for your business, but for all of the shares, tweets, posts, pins, links, and emails you initiate. It's because of you that we continue to grow. I've said it before and I'll say it again, 'Without you, I'd just be a starving artist with a kiln in my basement.'
Thanks for stopping by. See you next time...
Curt & Cassie Jones are a husband-wife writing team who blog professionally for Classy Plaques and other trending growth companies. They reside just south of Portland, OR in the north Willamette Valley.