If you follow our Classy Plaques Blog, you know that we've featured some of our popular designs recently. This week's post about our Cherries Address Sign and House Plaque design is no exception.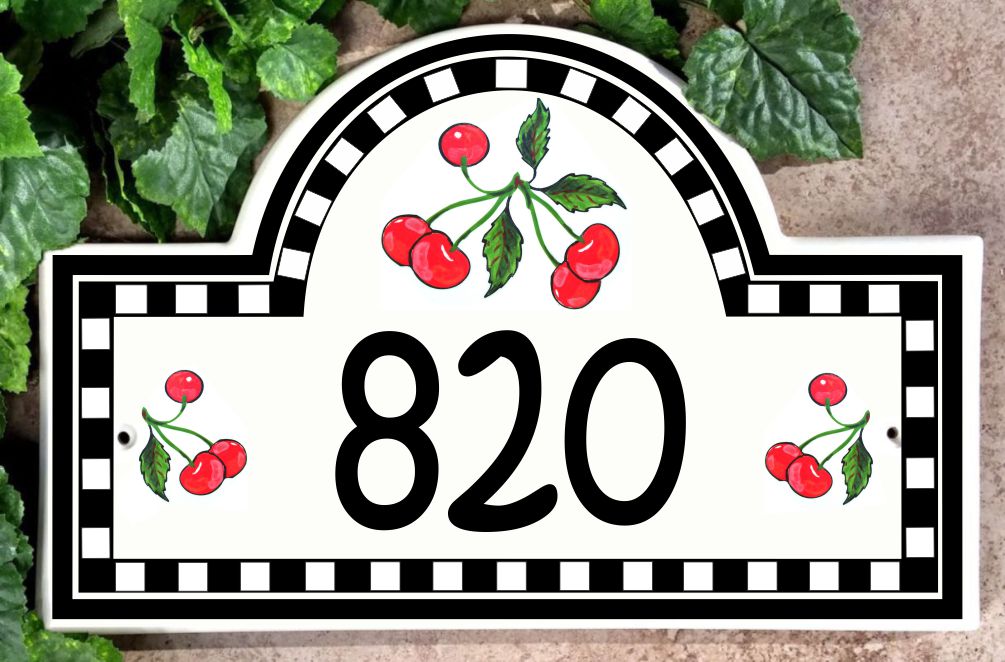 A professional blogger (like me) spends a lot of time figuring out what to say and what not to say about a given topic. Take cherries, for instance. I could blog about:
- The nutritional value of cherries as a popular super-food or the 1,000+ varieties of cherries grown in 20 countries and list the 10 types that are grown commercially.
- The popularity of cherry pie, which historically ranks #4 or #5 behind apple/dutch apple, pumpkin, and strawberry-rhubarb but ahead of blueberry, pecan, peach, and key lime.
- The use of the word 'cherry' in American pop-culture like cherried out (in tip-top condition), cherry-picker (engine lifting device), cherry-baby (cute girlfriend), and cherry top (old style police car).
- The brilliant color or juicy burst of flavor-or tell a nostalgic childhood story of climbing up a backyard cherry tree and being so scared to climb down that my mom made me stay in the tree all afternoon until dad got home.
I could blog about many things - but Renee, the founder, owner, and creative director at Classy Plaques (who also happens to be my sister-in-law and boss for this blog), sent me the following note last week:
Cassie…
'Of all our designs at Classy Plaques, The Cherries Address Plaque is one of my favorites. The design is fun, the colors are cheerful, and all of the border color choices work great. This is my own creation for those 'Mary Engelbreit' lovers (hope you know who that is!). For some reason, this plaque is one of our best kept secrets. It comes out great in the kiln and everyone who orders it, loves it – but fewer people order it. We receive more positive feedback on this plaque design than any other. So let's get the word out and blog about it. When it comes to these bright colors, there is plenty that people would love to decorate their homes with.
Thanks, Renee'

First of all, if you're not an artist (like me) and have never heard of Mary Engelbreit (even if Renee thinks we should have), Mary Engelbreit is a world renown artist and illustrator whose licensed artwork is featured on hundreds of products, calendars, best-selling children's books, millions of greeting cards, thousands of gifts, crafts, and home accents.
Cheery Cherries
Incorporating cherries into your decorating theme is refreshing and will add whimsical fun and vitality to your home. Cherries work well on everything from socks and stationery to jewelry and fabric (also ceramic address plaques). Mary Engelbreit (who we all know and love) uses cherries in many of her products and designs.
Cherries work well in the kitchen and depending on how you use them, can complement both contemporary and retro designs. A few cherries will bring a touch of interest and detail. A complete cherry design motif will add a warm and welcoming 'no-place-like-home' feel to any room.
A bold, cherry-red wall will enhance a cherry decorating theme as much as an actual cherry design. Or try using a bold cherry red color on kitchen cabinets (or interior shelves), table or chair legs, or on hanging shelves for knickknack displays.
For accents, you may want to hang cherry-print curtains on a kitchen window or display cherry-design dish towels. You can mount cherry-themed wall art or display cherry-themed pottery, glasses, canisters, or cutting boards. Since accents can make or break any decorating theme, make sure your accents contain the same hue of red or the same basic cherry shape as your primary theme.
For a final touch, place a bowl full of sweet ripe cherries on your table. Their deep, rich color can conjure up cheerful memories of long summer days.
Have fun decorating and if you want, take a look at one of Renee's favorite Classy Plaques designs: The Cherries Address Sign and House Plaque.
See you next time!
Cassie Jones, Blogger