First Impressions
For many Classy Plaques customers, the ceramic address plaque that adorns their front porch or entryway is much more than a house number sign. It is a sneak peek, first impression introduction to the good taste and elegance of their home decorating theme. So we decided to devote this entire blog post to the topic of home decorating and more specifically, a rapidly emerging trend in home decor, the rooster.
Is There a Rooster in the House?
When it comes to home decorating, professional interior designers and do-it-yourself home decorators often reserve a soft spot in their hearts for the iconic rooster. Animal lovers, country girls, and home decor trend setters alike often include the rooster in their decorating, to add a touch of country charm to their home. The introduction of a rooster theme into your decor motif tends to evoke feelings of warmth, comfort, and simplicity reminiscent of country living.
Home Decor Trends
A quick review of Classy Plaques' Pinterest page for 'Rooster Decor' will give you a feel for the growing popularity of the rooster theme in current home decorating trends. From kitchens to bedrooms to entryways and dens around the world, designers, decorators, and other purveyors of good taste have roosters in their home.
Tasteful Restraint

As with any home decorating idea, be sure to balance your themes, and temper your accents. Too much of a good thing can look overdone. It's good to introduce a new theme or accent piece but remember that a little bit of pizzazz goes a long way. Too much rooster can be the difference between elegant, tasteful décor, and living at the county fairgrounds.
Who Let the Rooster in the House?
If you're wondering how the rooster has become such a popular trend in home decorating, you have to go back in time - way back. The rooster is an ancient symbol of the victory of light over darkness and a representation of watchfulness and protection. Many cultures have used the rooster in household decor for centuries.
In the Middle Ages, the Gallic Rooster was used as a religious symbol that stood for hope and faith. During the Renaissance, the rooster became associated with the emerging French nation and for centuries, the Gallic Rooster was used by folk artists to adorn ceramics and furniture.
In America, the rooster is the iconic symbol of country living. The harbinger of daylight and official greeter of the morning sun is synonymous with hope, renewal, and good luck.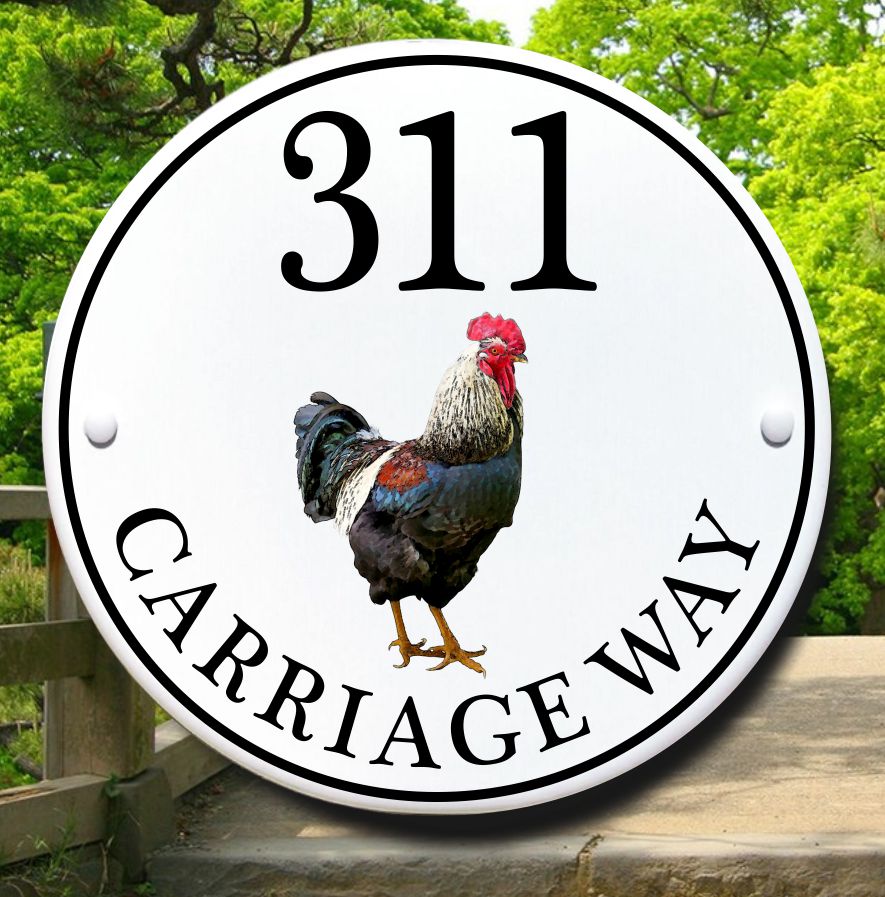 First Impressions
If you have followed the ever increasing trend of the rooster, a custom-designed ceramic address plaque or house number sign from Classy Plaques may serve as the perfect addition to your home decorating theme. Imagine the fun of greeting visitors and welcoming guests with the first indication of your decorating motif as they enter your home!
Feel free to view our 'Country Rooster Cottage House Plaque' or 'Rooster Cottage House Plaque' here or peruse the Entire Classy Plaques Catalog of over 100 unique designs in dozens of design, shape, size, and color combinations.
Until next time,
Cassie Jones
Classy Plaques Blogger